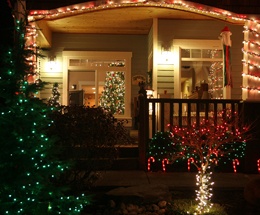 The holiday season is officially here! Now comes the hustle and bustle of the season, as well as fun family traditions. Families are venturing into the wilderness to cut fresh trees. Neighbors are spending time on their roofs trying to win the neighborhood-decorating contest.
Unfortunately, there are thousands of holiday related injuries every year! While there are plenty of funny holiday mishaps in the movies, remember that's Hollywood. In real life, these mishaps could lead to a visit to your local hospital.
Holiday injuries can include:
Lacerations;
Strains and sprains;
Bruises and abrasions;
Fractures;
Internal injuries; and
Concussions.
Below are a number of resources that can prevent you from becoming a holiday statistic.
Six ladder safety tips to keep you safe during the holidays
Nine tips to stay safe in busy parking lots this holiday season
Tips to make your pet's holiday travel enjoyable and safe
Five tips to keep your Christmas tree from going up in flames
Seven tips for getting your Christmas tree home safely
SOURCE: WEST BEND, Posted by Scott Stueber on Dec 5, 2017 10:00:00 AM